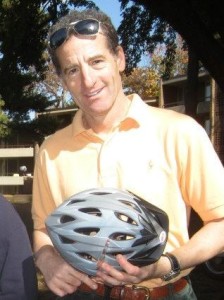 There is a lot of data indicating that bike helmet usage reduces the incidence of traumatic brain injury and death from cycling accidents.  The Center for Disease Control and Prevention says risk of injury is reduced by 80% when a helmet is worn.
So, why is a Maryland bill proposing mandatory helmet usage for all cyclists facing opposition?
Some bike advocates believe that mandatory helmet laws will dissuade some people from riding bikes at all and that this reduced ridership will lessen the "safety in numbers" effect. Others are concerned about how the Capital Bikeshare program would fare in Maryland if helmets are required by law.  (Capital Bikeshare allows riders to pick up bikes from docking stations all over town and then return them to another station within the  system after using the bike for short jaunts around town.)
Herndon bike accident lawyer and cyclist Doug Landau never gets on his bike without a helmet.  And he urges his friends, family, colleagues, and clients to do the same.  "I have seen what can happen to a cyclist who is in an accident without wearing a helmet.  Why take a chance?  And why fight the passage of a law that is meant to protect people's lives?" says Doug.
If you or someone you know has been in a cycling accident and there are questions as to what laws apply, email or call Abrams Landau, Ltd. at once (703-796-9555).