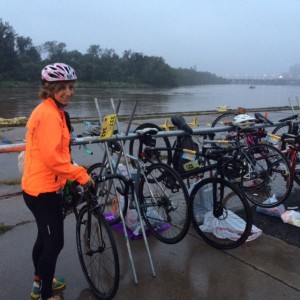 As perhaps one of the best Half & Olympic Distance urban triathlon courses in Virginia, the HCA Sports Medicine Richmond Rox Triathlons were rescheduled to this past weekend, following on the heels of the UCI World Championship Bike Races in and around the city. With the addition of Sprint and Aquavelo competitions, the four late season multisport events had something for everyone. However, the weather had other plans…
Citing "SAFETY FIRST" the Richmond Multisports Race Directors put the word out that the SWIM portion of the race would be cancelled due to high river levels. Noting that "The current rivers levels are twice the safe recommended level for swimming. The race will be conducted as a duathlon, with a 2-mile run start for the Half Iron and Olympic distances, and a 1-mile run start for the Sprint. Aquabike divisions will be held as a bike leg only." The decision was be made with the assistance of Richmond Fire and their Water Rescue team.
The race was able to preserve the rolling bike course that went East into rural Varina along the James River, which looked like roiling chocolate milk ! Doug Landau took part in the Sprint Race while his wife did the Olympic event, which started 2 hours earlier. With a one mile run before getting on the bike, lawyer Landau lead the race for about a quarter mile before being reeled in by faster runners. Because he had confused his wife's bike shoes for his own, Landau did the entire race in soggy running shoes. So his transitions were very fast, but he bike split was not up to his usual high standards. The wet roadways, hills and vicious cross winds made for a tough bike leg, but the run under the Richmond Railroad tracks was protected and somewhat dry. The course run went West into historic downtown Richmond, along the canal walk, Brown's & Belle Islands, across the pedestrian bridge over the river, back across the flood wall, then back again on the VA Capital Trail, finishing at Rocketts Landing right on the river down below The Boathouse & Conch Republic Restaurants! Parts of the run course have amazing views of the City of Richmond.
Once out of the first Transition, Landau was passing athletes the rest of the race, with only the women's winner (and third overall finisher) able to overtake him. Winning his age group and finishing in the top 10 without bike shoes made for a successful wet, cold weekend Richmond road trip. For event results, click here